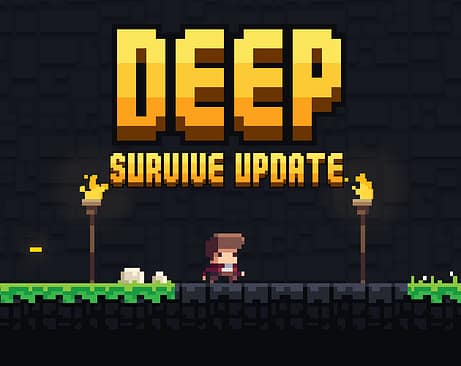 Hello everyone!
We are happy to announce that the new Deep Survive Update is out! In this update, we added the brand new "Survive" game mode, added some new options in the settings menu and fixed some bugs you encountered in the first week and a half that the game is on Steam. Here is the full change-log:
Deep v3.7.2 Update Full Change-Log
[NEW GAMEMODE: SURVIVE]
We added the new game mode to Deep called "Survive". (Thanks to YTRiver Films for the suggestion) Battle against increasing waves of enemies, but apart from the combat, master the changing environment through 5 stages of the map. Each stage has 5 waves each increasing by 1 bat or 1 slime, and when reaching the next stage the enemies reset to a lower number. After each stage your health replenishes and you can get some power-ups by killing the enemies. If you die after reaching Stage 3 you will have a second chance to play that stage again.
[GAMEPLAY]
We have altered Levels 4, 5, 6, 7, 8, 9 and 10 in Chapter I as well as Level 20 in Chapter II to be less difficult.
We removed the Hard mode feature that made the enemies stronger. Now you just start with less HP.
[OPTIONS]
We have added the Chapter Reset option. If you are going for the "Zer∅ Deaths" achievement this will be very useful. Please note! If you open a chest and receive a cosmetic item while playing the chapter, you won't be able to reset it. Also by resetting the chapter we will reset your coins and earned chests earned in that chapter.
You can now choose will your game be windowed or fullscreen in the Video settings tab
[COSMETICS]
We added 2 new cosmetics items you can use while exploring the cave:

The Duck hat
Rarity: Rare
Type: Hat



Astronaut
Rarity: Ultra Rare
Type: Skin



Jack Flex
Rarity: Special
Type: Skin

This skin is available exclusively to our Patrons. Become a Patron today!
[BUGS FIXES]
The space button now works for wall jumps and ladder
We have rearranged the chapter selection buttons because they didn't make any sense (Thanks to Fillerz)
See you in the cave!